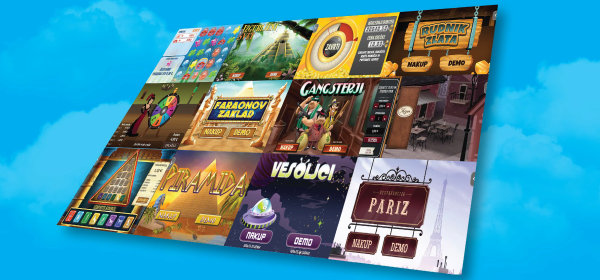 E-Instant Games of Športna loterija are attractive, easy to play, and they drive user engagement.
Please allow us a moment to introduce them to you.
E-Instant Games represent an important share of our sales. They are built in HTLM5 technology, for desktop and mobile platforms. We take great care about actuality, attractiveness and diversity with constant development and upgrades to the portfolio, with three to four new games per year. Take a closer look at our e-Instant Games – please find the whole presentation on the link:
e-Instants an Important Part of Games Portfolio
They will absolutely add value to your portfolio as well. Explore them – we invite you to play demo versions of a selected games at:
That was fun, right?
If you are interested in our games, it will be our pleasure to make an offer to fulfill your demands. Since they are a product of our in-house development team, they can be modified to suit your needs and desires.
We offer attractive content:
single-level fixed odds games
multi-level fixed odds games, where after each level, player can:

continue with the winnings to the next level
or finish the game and cash out

adjustable odds and RTP
multi-language support
great player retention
games run on all platforms:

desktop/terminal,
mobile devices
Available games:
Pyramid,
Lost World,
Pharaoh's treasure,
Paris, Gangsters,
Aztecs Temple,
Aquarium, Arabesque,
Blue Sapphire,
Aliens,
Gold Mine,
Season's Happiness,
Pick & Roll, Saloon,
Tricky Cups
Contact us:
info@sl123.si
Športna loterija
Dunajska cesta 22
1000 Ljubljana
EU – Slovenia